Eric D. Snider January 21, 2009
In movies, there is often a very fine line between comedy and horror. What is meant to be scary can, out of context — and without the right special effects and musical score — be silly. On paper, even the most terrifying films sound ridiculous, from Psycho (a crazy guy dresses up like his mother and kills hotel guests?!) to The Ring (a videotape kills its viewers??!).
This is probably why so few films try to be funny AND scary — because there's always the chance it won't work and the scary parts will just make people laugh. It takes confidence to pull off the dual tones, but when it's done right the effect is powerful. Audiences love to laugh, and they love to scream. If you can make 'em do both all in one film, well, that's saying something.
Tremors, which was released 19 years ago this week, pulls off that neat trick. For its troubles, it was rewarded with a lousy box office (less than $17 million) but a long life on video and DVD. It's now a "cult classic," and it's interesting how many horror comedies are in that category. Tremors is an affectionate homage to the monster-themed B-movies of the 1950s, but unlike many such homages, it never becomes a parody. Its scary scenes really ARE scary, not cheesy, which is more than you can say for a lot of the movies it emulates. And yet it does have enough camp value, mostly in the arch performances by the off-kilter actors, to repel some viewers and keep it from gaining widespread fame — hence the cult-classic status.
It stars Kevin Bacon, who hadn't yet fully capitalized on his Footloose fame from six years earlier, and Fred Ward, a familiar character actor, as a couple of rural Nevada handymen whose tiny town of Perfection is attacked by giant worm-like creatures. They and a hardy band of survivors try to outrun and outsmart the monsters, leading to a finale that recalls a truism established by countless other creature features: It doesn't matter how much firepower you have; in the end it all comes down to strategy.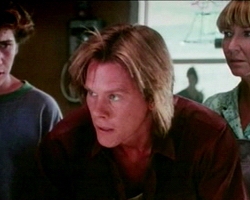 Tremors is now widely known as a "midnight movie," the sort of thing the cool local theater shows on weekends to packed crowds of raucous fans. It has many of the elements common to such films: a very fast pace, with no scene lasting more than a couple minutes; quirky, quotable characters; and a few scream-inducing surprises. As many "midnight movies" as have these elements, it's no surprise that filmmakers have often tried to create a cult favorite on purpose — but neither is it surprising that they usually fail. Audiences for these types of films can smell artifice a mile away, and they especially know when you're trying to appeal to them.
Despite its poor box office, Tremors spawned three direct-to-video sequels (another hallmark of a cult classic) and even a short-lived Sci-Fi Channel series. You can tell which cast members' fortunes improved after the first film and which didn't: Kevin Bacon had no part in the sequels or TV series, while Fred Ward came back only for the first sequel. Some of the supporting characters returned every time — including Michael Gross, best known as the dad on Family Ties, who reportedly started shooting Tremors the day after his long-running TV series shot its last episode. Talk about your changes of pace.
Looking at the film now, I'm reminded first of Slither, a fantastic horror comedy from 2006 that was overlooked by the public (Universal's failure to pre-screen it for critics, most of whom wound up liking it, didn't help), was pop-culturally savvy without overdoing it, and which also featured slimy creatures attacking a town. Slither's writer/director, James Gunn, was obviously a fan of Tremors: the high school in his film is named after Fred Ward's character, Earl Bassett.
Most horror films today are humorless, straight-faced affairs whose only comedy is of the unintended variety. But can you blame them? Those things make money. Apart from rare aberrations like Shaun of the Dead, films that try to mix the genres slip through the cracks, to be resuscitated by small but enthusiastic crowds of fans in the world's college dorm rooms and repertory theaters.
FROM THE TIME CAPSULE: When Tremors was released, 19 years ago this week, on Jan. 19, 1990…
• It was the only new wide release that weekend, and it debuted in fifth place. Ahead of it were December holdovers Born on the Fourth of July, Tango & Cash, The War of the Roses, and the previous week's debut Internal Affairs.
• The rest of the box office top 10 included Always, Steel Magnolias, The Little Mermaid, Driving Miss Daisy, and Back to the Future Part II.
• The Mr Bean show had recently premiered on Britain's ITV. In the U.S., Twin Peaks and In Living Color were a few months from debuting, while Mama's Family, Scrabble, and ALF had just a couple months to live.
• They Might Be Giants' seminal album Flood had been released two weeks earlier. The top song on the Billboard Hot 100 chart was Phil Collins' "Another Day in Paradise," to be followed by Michael Bolton's "How Am I Supposed to Live Without You."
• As usual, the New York Times Best Seller List was populated by Stephen King (The Dark Half), Danielle Steel (Daddy), and Tom Clancy (Clear and Present Danger). On the nonfiction list, Robert Fulghum had the top two spots with It Was on Fire When I Lay Down on It and All I Really Need to Know I Learned in Kindergarten.
• Time Inc. and Warner Communications Inc. had merged into Time Warner nine days earlier.
• In Washington D.C. Marion Barry had been arrested for drug possession the day before. Panamanian bad guy Manuel Noriega had surrendered to U.S. forces two weeks before that.
• Alan Hale Jr., who had played the Skipper on Gilligan's Island, had died Jan. 2. On the other side of the circle of life, Twilight star Kristen Stewart had less than three months left to gestate.
* * * * *
"Eric's Time Capsule" appears every week at Film.com. You can visit Eric at his website, which is much more enjoyable after midnight.
Categories: DVD
Tags:
Dvd
,
Kevin bacon
,
Tremors
Previous article On DVD: REPO! The Genetic Opera Next article Sundance Review: Everybody's Coming to Amreeka!
Nster.com